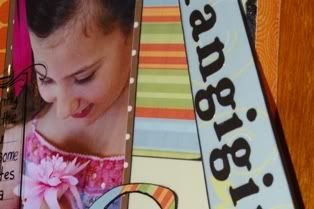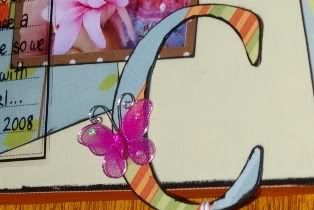 Check out this 8" x 8" mini canvas project. Believe it or not this is my first ever attempt at a canvas. I have always been a bit scared by them to be honest but now I've done this one I am almost hooked. I have a couple more in mind now.
Chelle made up an absolutely stunning DT kit for May with gorgeous Scenic Route papers as the basis with some really great embellishments thrown in. My favourite part of the kit was the
Hambly Press transparency
it was so great to be able to cut out the journal block I wanted to use and attach it to my page before writing on it with a thin-line permanent marker. I think they look effective. I also loved the giant chipboard flowers by
Deluxe Designs
.
It's not particularly clear here but I have cut the circles on this printed paper so that there are some empty sections betwween the coloured rings, then applied a circular journal transparency over the top.
This layout is for a competition on Scrappit (my old DT site). I used some left over paper from my SNC DT kit on this layout.
My final project made from the May SNC DT kit was a mini-maze album which I have incidentally, turned into a free class for members of the SNC forum. So pop over to the forum and sign-up as a member to access this
free class
.